It used to be I could do a 700 mile day and get up the next morning and do it again. Not anymore, it seems. We did just a hair under 1000 miles over three and a half days and I feel beat up.
We took off Wednesday mid morning, and headed north to Canada. Camped in Summerland, BC the first night. Municipal campground during summer months. Has a creek running through it and a sort of bird sanctuary across the street. Nice, quiet place. But it was still early in the season and who knows what high summer would bring. We had a portion of the campground to our selves. Nice place, but they really need to work on replacing the dandelions with some grass.
Got up the next morning, picked a spot on the map and headed north. That spot was Clearwater, BC. Had a leisurely ride up through Enderby & Salmon Arm, stopped at a park along Shuswap Lake for lunch. Also took a break at a 'tourist trap' called the Log Barn along 97A. Complete with a goat walk and a t-rex pulling a stage coach.
Shuswap Lake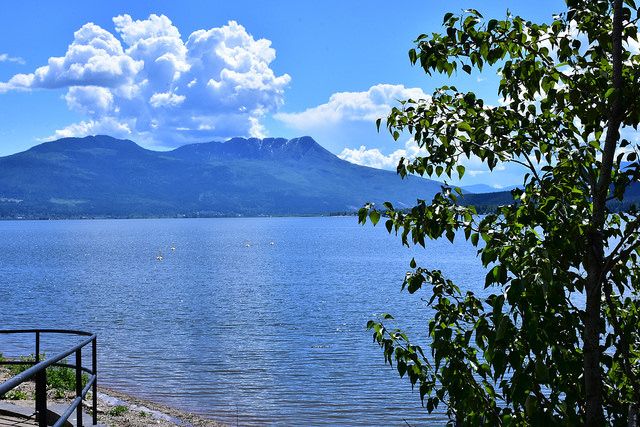 The Log barn: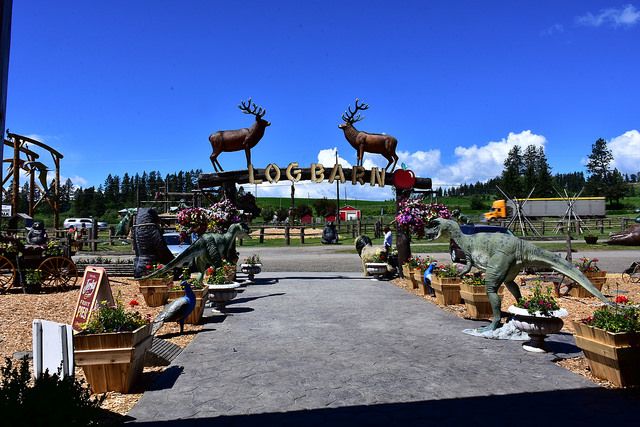 Followed 1 to Kamloops then up 5 to Clearwater. Nice campground along Dutch Lake (bring mosquito spray!) Learned from the clerk about Helmcken Falls, which was a beautiful 30 mile ride up the road. Several falls along that one way stretch of road.
Campsite on Dutch Lake:
Dutch Lake reflections:
Helmcken Falls: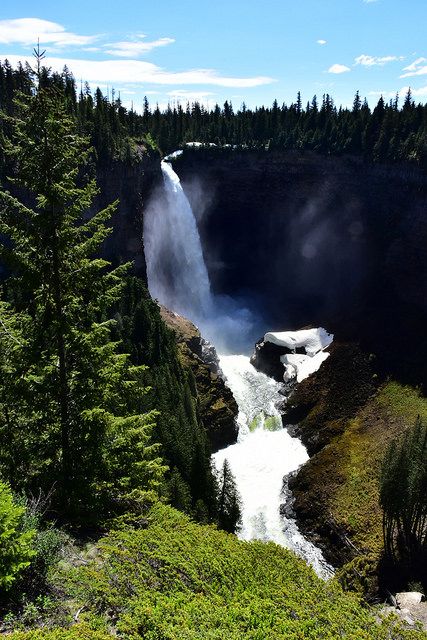 We were going to head back along Hwy 24, but we decided to come home a day early. Memorial Weekend in Chelan County is a madhouse. Lake Chelan and the Columbia River are packed with boaters and drunken fools, most of them not going anywhere on Saturday, though. So, back down 5 to Kamloops, then 5A to Merritt. 5A was gorgeous and we pretty much had the road to ourselves.
Stopped in Merritt and opted for a hotel. Most of the places to camp along 5A were flooded. And the hotels were full. Only room to be had was a suite at the Quality Inn. Oh well. Nice room, plenty of hot water for a long shower and a real comfy bed. And no mosquito's.
Continued down 5A Saturday morning, then to Hwy 3 and back into Washington at the Nighthawk crossing. Stopped in Omak for lunch at a Mexican place called El Portal. Really good food, great service. And air conditioning!!!
Just south of Nighthawk. Lake Palmer:
Instead of continuing along the river route, we headed for Bridgeport and up to the Waterville Plateau. Miles of range and wheat fields, and no holiday traffic. WSP doesn't spend a whole lot of time up there patrolling the state highway and I know where the deputies are, so I kinda took advantage of that and made a very spirited run up Bridgeport Hill rd. Its about an 8 mile run up the hill, and the limit is 50, I think. But you crest the hill and the wide open expanse comes into view and the road heads right down the hill and its like one of those stomach dropping roller coaster rides. I love it.
Down through Waterville then 'over the top' as the deputies call it, through Badger Mtn Rd, then down into Wenatchee and out west along the back roads to home.
So many cool roads up there in BC. Friend of ours was paralleling our northward route in his motor home as he and his wife headed up to Watson Lake. Seems he and a bear had a disagreement as to who owns the road. Bear 1, Motor home 0. Bear slunk off to join his pal at the lake and they both spent time mocking my friend while he checked out the damage to his coach. Its driveable, he says. Last I heard, they were in Fairbanks. Ahhh, the life of the retired folk. Must be nice!!!
Oh well, it was a fun weekend. Back to work on Monday, and my speare time is being spent doing a 15,000 mile/annual checkup on the GS.
Currently, all its plastic bits are off, all the oil and radiator fluids are drained and the valve cover is off. Spark plugs look good, maybe tomorrow I'll have time to check valve clearance and replace all the brake fluids.